An Operational Technology risk and threat assessment can serve as a foundational activity for improving your overall approach to infrastructure security. Not only can it identify gaps in your OT security posture, but it can also help sensitize employees and to ascertain if you have the right resources, practices, and workflows to improve OT security.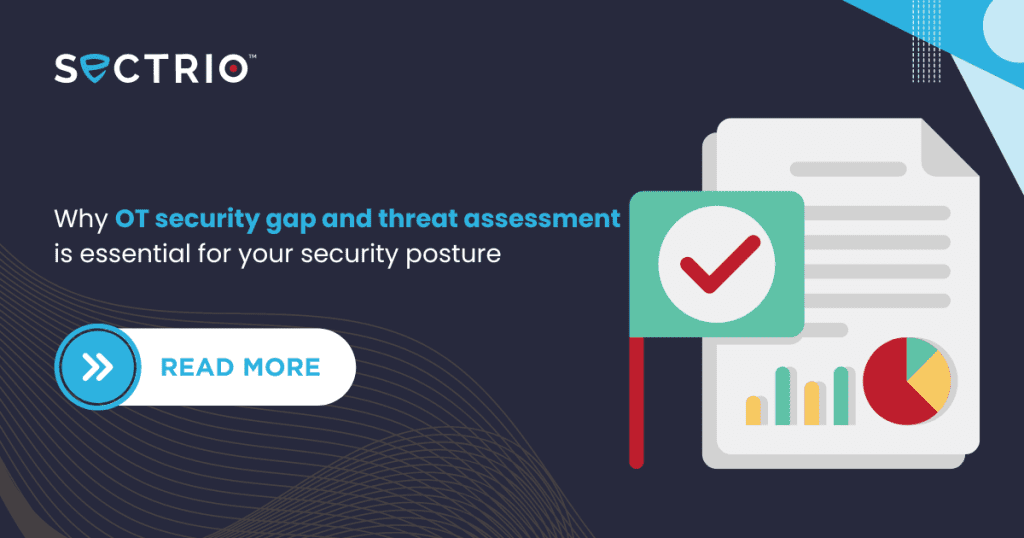 Table of Contents

Each year, many security vendors and OEMs publish their threat environment assessment reports. 2023 is no different. In fact, Sectrio will be publishing its IoT and OT threat landscape assessment report in the coming week. Our report talks about the specific deterioration in the threat environment surrounding OT-based infrastructure. There are specific inputs on how threat actors, emboldened by their success in targeting OT infrastructure are now expanding their operations to target many aspects of OT including devices sitting at the periphery of OT networks as well as safety and instrumentation systems.
Also Read: How to get started with OT security
Thus, anytime is a right time to conduct an OT threat and gap analysis exercise to find out how susceptible your infrastructure is to such attacks and threat actors. As a leading OT security vendor, Sectrio has undertaken many OT threat assessment projects. Following are some of the best practices that our SMEs recommend for conducting an effective OT security risk and gap assessment
10 best practices for OT security gap and threat assessment
1. Start with the scope
Determine the full scope of the assessment along with objectives. Which are the systems, devices, and processes that will be assessed? What are the parameters and what kind of assessment methodologies and models will be used? This will help you to focus your resources and efforts and ensure that you have a comprehensive understanding of not just the security risks but also the amount of time and resources involved. If there is any scope for a downtime, it should be identified here.
2. Identify the assets
Identify the critical assets in the system that you are assessing and prioritize them based on need and on the possible impact in case of a cyberattack. This includes hardware, software, networks, and other components. It is advisable to identify the interdependencies as well.
3. Conduct a threat assessment
Identify the potential threats that could affect the assets. This includes cyber threats such as malware, ransomware, side loading, man-in-the-middle attacks, and hacking, as well as physical threats such as natural disasters, accidents, and equipment failures.
4. Identify specific vulnerabilities
Assess the security vulnerabilities that exist within the system. This includes both technical and non-technical vulnerabilities.
5. Measure compliance with IEC 62443
Do the systems comply with various IEC 62443 stipulations? IEC 62443 can serve as a guiding standard for various aspects of operations and infrastructure.
6. Evaluate the existing security measures and their impact
Determine what security measures are already in place and assess their effectiveness.
7. Identify gaps
Identify any gaps that exist in the current security measures and determine what additional measures are needed to address these gaps.
8. Develop a plan
Develop a plan to address the identified gaps and mitigate the identified risks. This should include a prioritized list of actions and a timeline for implementation.
9. Implement the plan
Implement the plan and monitor the system to ensure that the security measures are effective.
10. Conduct regular assessments
Conduct regular assessments to ensure that the security measures remain effective and to identify any new risks or vulnerabilities that may have emerged.
Conducting an OT security risk and gap assessment is a complex process that requires expertise in both industrial systems and cybersecurity. Which is why you need to speak to Sectrio. We have conducted OT security and threat assessments across industries. Our mature risk, gap and threat assessment approach can help your organization identify and mitigate gaps and threats.
Find out what is lurking in your network.
Go for a comprehensive 3-layer threat assessment now by Sectrio