On average when compared to other generations, hackers have much more to gain from breaching 5G networks and deployments that rely on them. In addition to theft of subscriber data, hackers can impersonate genuine network users, launch large scale DDoS attacks and access gated information and live sessions by faking authentication.
While the traditional school believes that the explosive rise in attack surface is the biggest threat associated with 5G, we are now witnessing the emergence of new threats that could cause a bigger concern in the near future.
Network slicing and the use of technologies such as ERP and IoT in some of the network slices could render some layers more vulnerable to cyberattacks. Looking at this from another perspective, some of these slices could also be less protected by authentication layers which makes them an easy target for hackers. When we superimpose the above two scenarios on to a single network node, then that node could hypothetically become a sitting duck. It could be hacked into in less time than what you have taken to read this post or more specifically till this line.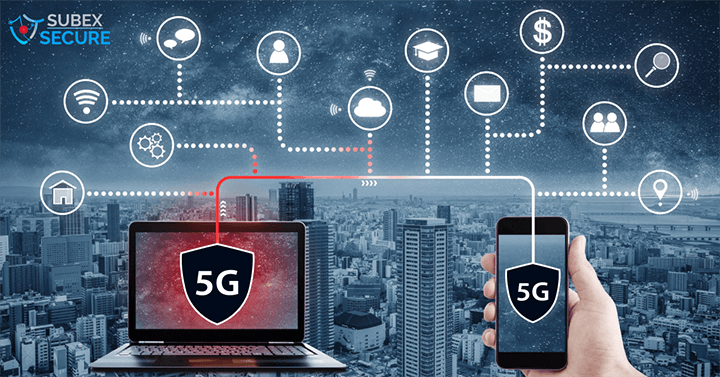 A hacked network node can then be used to steal data including location information of users, launch DDoS attacks and access other network functions and slices belonging to other business users. Lack of a one-on-one mapping between applications and the intermittent identities creates a situation wherein a hacker could hijack a layer and move laterally to breach the core network as well. Thus, with the addition of each network slice, the cumulative cyber risk could grow exponentially.
Lack of a zero-trust approach and adaptive security monitoring can hamper any effort designed to secure 5G. Thus, it is not just about understanding 5G cybersecurity and the evolving threat landscape but it is also about acting diligently to secure 5G against such threats.
You don't have to learn to live with such cyber risks and threats. Subex Secure has been working to secure 5G for a while.
Our offerings help:
Detect and contain latent malware.
Prevent malware from moving laterally.
Discover rogue/unauthorized devices on the network.
Identify anomalous network activity.
Deflect cyberattacks through decoys.
Protect devices and data streams.
Secure your 5G assets using Subex Secure's Solutions and deter Cyberthreats immediately.