Detect threats and manage network risks with ease on a single platform.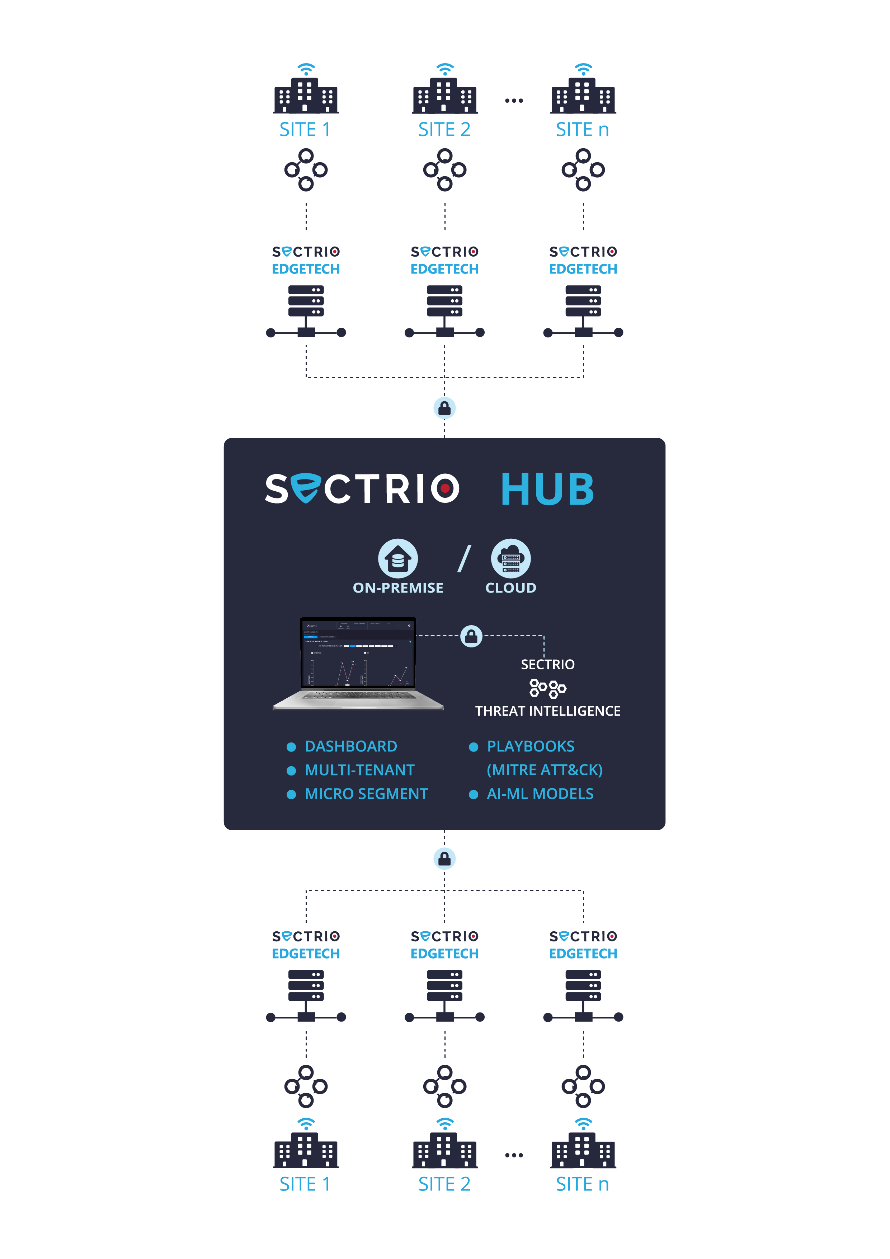 Sectrio Hub is the focal point for the Edgetech Appliance(s) and Remote Collectors and presents the user interface for Sectrio's offerings. It connects to the Sectrio Update Center to gather the latest threat intelligence updates. Sectrio modules Vulnerability Management, Threat Management and Micro- segmentation are activated in Sectrio Hub. All custom interfaces between Sectrio's products and other systems including SIEMs, SOARs, email management systems are managed through the Hub.
Sectrio Hub uses metadata from the Edgetech to perform AI-ML detection using our proprietary anomaly engine to detect threats.
Sectrio Hub is available in multiple form factors; installable, containerized, virtual machines, hardware, and hosted versions. Hosted cloud versions are also available. The Hub is also supported on most public cloud providers as images that can be spun up as a form factor that the customer chooses and is compatible with their cloud deployment.
Sectrio Hub has no dependency on any cloud-native technology and can be run on any public cloud environment. All images of Hubs are hardened by default.
Self-configurable dashboards
Threat management using Mitre and Att&ck framework for Industrial Control Systems (ICS)
Available as physical, virtual, and containerized instances
Offers comprehensive compliance reports
Device discovery and network topology
Cloud instances available in various geographies
Comes with integrated IoT and OT playbooks
Detect and mitigate threats early.
Gain a single view of all threat alerts and data.
Activate all Sectrio modules from one platform
Get the latest threat updates
Manage all cross-system interfaces
Build resilience and keep threats at bay
Protect your IoT, OT and converged assets with Sectrio.