Un programa integral de ciberseguridad que cubra todas las bases, incluyendo el cumplimiento, la protección de activos, la gestión de accesos y la detección y contención de ciberataques
Un programa integral de ciberseguridad debe cubrir todas las bases, incluyendo el cumplimiento, la protección de activos, la gestión del acceso y la detección y contención de ciberataques. Para poner en marcha este programa a nivel empresarial, es necesario contratar a un socio consultor de ciberseguridad de IoT y OT. Sectrio tiene una práctica de consultoría de IoT y OT evolucionada que puede ayudarle a mejorar su postura de ciberseguridad, a cumplir y a cubrir las deficiencias. Nuestra oferta de servicios de consultoría puede ayudarle en
Evaluación de riesgos OT/IT
El equipo se especializa en la realización de actividades de Evaluación de Riesgos para un conjunto diverso de entornos OT como el Farmacéutico, el Automóvil, el Marítimo, el Gobierno, entre otros. Esto incluye todo el espectro de percepción de amenazas, previsión y estrategias de evaluación para minimizar la exposición a las amenazas.
Gestión de riesgos OT/IT
Si se enfrenta a los retos de la seguridad en OT, nuestros expertos pueden ayudarle a establecer un programa de gestión de riesgos desde el principio para dirigir estratégicamente sus esfuerzos de seguridad. Los servicios también están preparados para diseñar y perfeccionar las mejores prácticas para abordar los problemas y desafíos de la gestión de riesgos de OT.
Evaluación de la seguridad de Blockchain
Si está planeando aventurarse en el espacio de las criptomonedas y no está seguro de los requisitos de seguridad, consúltenos y podremos ayudarle.
Modelización de amenazas
Permite a sus equipos de seguridad identificar, prever y definir las posibles amenazas. Esto abarca aplicaciones, entornos de despliegue, puntos finales móviles y fijos, IoT y otros sistemas integrados, control industrial y HMI y sistemas ciberfísicos, eficacia de la respuesta y cumplimiento de la normativa.
Sectrio permite hoy en día el despliegue y la ejecución con éxito de complejos programas de ciberseguridad de IoT, OT y convergentes en todos los dominios y zonas geográficas. Nuestra experiencia y conocimientos pueden ayudar a su empresa a centrarse en los profesionales del negocio principal mientras Sectrio se encarga de sus necesidades de ciberseguridad empresarial. Nuestras líneas de consultoría se dividen por verticales y cada línea se ejecuta a nivel de práctica reuniendo 1000s de horas-hombre de experiencia y conocimientos de consultoría de ciberseguridad.
Schedule a free consultation session with our vulnerability management team today to understand how your business can benefit from Sectrio.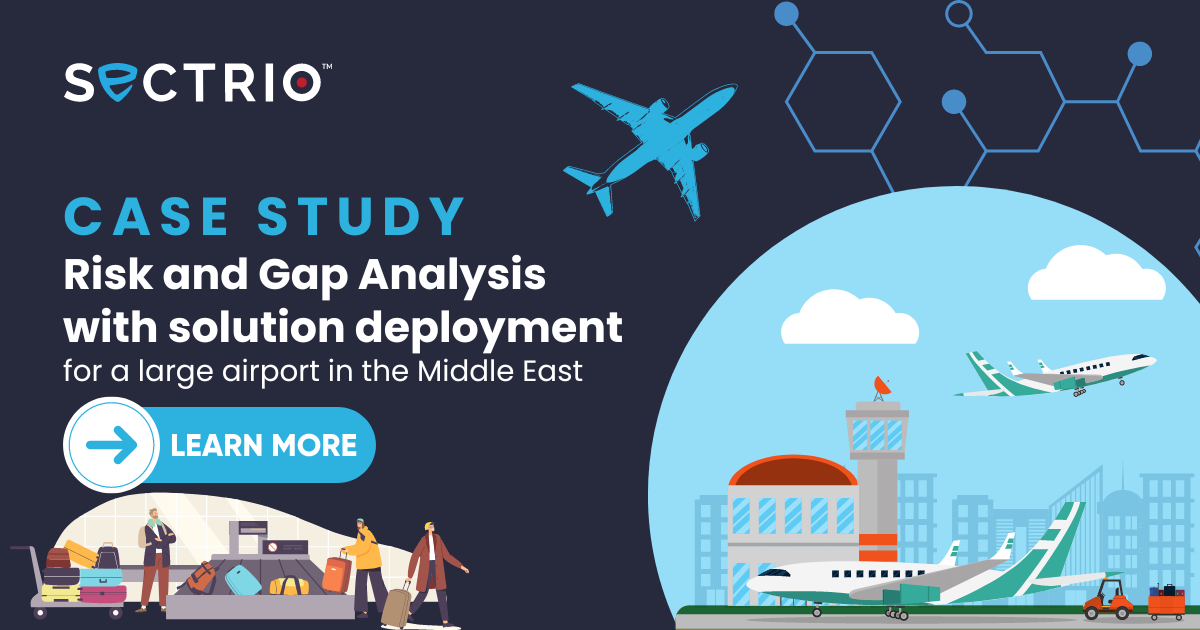 June 20, 2023
Why should you read this? Security gaps in airports are creating new challenges for security...
Protect your IoT, OT and converged assets with Sectrio