A dedicated OT Security Operations Center offers a strong foundation for launching and supporting many institutional security measures such as continuous threat detection, unified view and visibility, and OT governance and policy implementation.  When done well, a managed OT SOC can serve as a nerve center for all OT security efforts while reducing risk exposure and resource requirements by significantly reducing redundancies.
OT SOC also institutionalizes all security measures and ensures the allocation of adequate levels of attention to OT security in line with the growing threats and cyber risks related to OT.
Table of Contents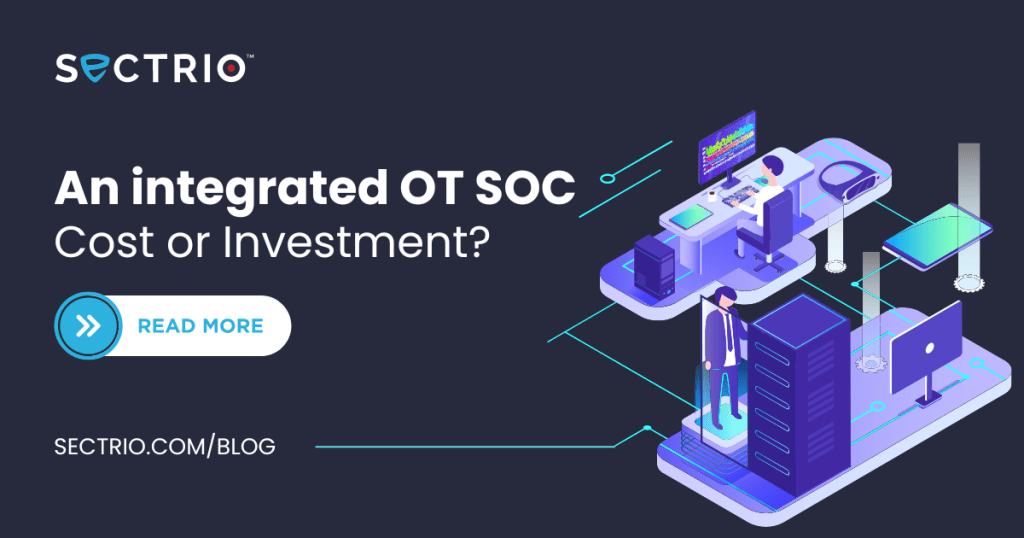 Cost Vs investment: building a case for an OT SOC
In an era dominated by the convergence of technologies, security blind spots can derail even the best security plans and approaches. Such blindspots can emerge due to many reasons one of which has to do with a general lack of a unified and evolving approach to OT security that keeps pace with the rising sophistication of cyberattacks, rising insider threat, and increasing threat surface area. Having an OT SOC reduces the chances of such blind spots existing for periods long enough to cause their impact to manifest. Through a mix of policies, interventions, best practices, and solutions, such blind spots can be addressed fairly early in their lifecycle.
Efficiency is another area where businesses can gain significantly with a dedicated OT SOC. With an OT businesses can run automated processes that minimize time to respond to an incident, reduce manual tasks, and gain deeper insights to manage resources while keeping costs under control. These automated tasks can also help improve the quality of incidence response as well by offering the right data and decision-making context to security analysts or to workflows that serve as policy triggers.
An OT SOC should be seen as an investment rather than a cost. In addition to reducing needless redundancies, an OT SOC can also offer information to an IT SOC to improve coordination between the two teams. It also makes security operate in a more proactive manner to contain threats, identify vulnerabilities (and patch them), and stop cyberattacks early. Thus security investments as a whole are rendered more effective and efficient.
Keeping pace with changing threats and regulatory environment dynamics
A managed SOC can bring flexibility and scale to your security initiatives. A good OT SOC vendor can bring in best-of-breed solutions, implement proven practices, identify and mitigate risks early, and ensure compliance with existing and new compliance mandates on an ongoing basis. This helps CISOs focus on strategic and operational improvements.  
A good OT SOC pays for itself
In addition to all the benefits mentioned above, a good OT SOC can make a huge difference to your margins. How do you ask? Well, for one, with a well-managed OT SOC, your security team can invest time, resources, and attention in improving skills, operations, and other aspects without worrying about cyberattacks or breaches on an everyday basis.
Businesses can also save through a managed OT SOC through:
Reduced cost of compliance and security operations
Prevention of a ransom payout
Reduced cost of scale
Lesser resource costs
An OT SOC also addresses the cost of finding, recruiting, and retaining qualified OT security staff
The SOC can be set up rapidly and scaled without much strain on resources
The cost of tracking compliance and regulatory changes, threats, risks, and vulnerabilities is passed on to the OT SOC vendor
Want to learn more about how a managed OT SOC can make a significant difference to your business? Talk to our OT SOC expert now: Contact Us